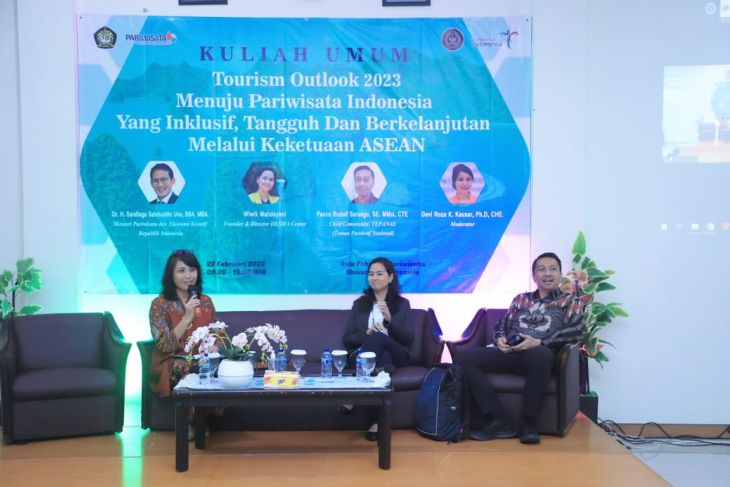 Depok (ANTARA) – Minister of Tourism and Creative Economy Sandiaga Uno affirmed that he would push for development of the regional tourism sector in an inclusive and sustainable manner.
"Tourism has proven to be able to make a major contribution to post-pandemic economic recovery," he remarked during a public lecture at the Faculty of Tourism of Pancasila University in Jakarta on Wednesday.
The minister made the statement through a video broadcast at the public lecture.
Based on big data collected by the Ministry of Tourism and Creative Economy, tourist villages have been proven to boost the community's economy by up to 30 percent, he remarked.
Apart from attracting other tourism potentials in the vicinity, the tourist villages also empower micro, small, and medium enterprises (MSMEs) and the surrounding community to contribute to the development of tourist destinations, he remarked.
"This is good news for Indonesia to continue to revive the economy during the post-pandemic period," he noted.
Uno remarked that in 2023, Indonesia will hold an important position in international forums as chair of ASEAN. The momentum offered by Indonesia's chairmanship in ASEAN in 2023 must be utilized optimally to increase its role and leadership.
In addition, it is expected to bring up new initiatives in overcoming challenges and other crucial issues that are of concern to the region and the world, including in the tourism sector, the minister remarked.
Director of the Destination Management (DESMA) Center Wiwik Mahdayani stated that tourist villages are one of the characteristics and main pillars of Indonesian tourism.
"Indonesia has a lot of potential for superior tourism villages. Therefore, it needs to be supported by increased capacity for planning and management to make it more independent, resilient, and sustainable," Mahdayani stated.
Meanwhile, Chief of the National Tourism and Creative Economy Community (Tepanas) Panca Rudolf Sarungu stated that over 300 meetings are estimated to be held in Indonesia during its chairmanship in ASEAN in 2023.
Thus, the Indonesian chairmanship can contribute to boosting tourism and the country's foreign exchange potential, both at the central and regional levels, especially through organizing events, Sarungu affirmed.
"Event management will become a strategic issue because a well-managed event will be able to become an attraction and add to the competitive advantage of a tourism destination," he explained.
Dean of the Faculty of Tourism of Pancasila University Devi Roza Kausar outlined two strategic factors that should become the main key in the tourism industry: an inclusive, resilient, and sustainable tourism management strategy and the strategy to increase tourism human resources, especially in managing conventions and events.
"This is what underlies us to open the Applied Undergraduate Program of Convention and Event Management at Pancasila University," Kausar stated.
The presence of the Convention and Event Management Study Program at Pancasila University is expected to enrich the choices of prospective students looking to become involved in the tourism sector as well as improve the quality of tourism human resources, who are competent, skilled, and able to provide added value in the development of inclusive and sustainable Indonesian tourism, Kausar stated.
Source: antara news